---
Srikanth - DD (VJ - Vijay TV)
I just wanted to thank you for the excellent job you guys did on our post wedding party. All the guests had a great time and got rave reviews from our friends! The choice of songs and the way you kept the crowd going was brilliant.You are defintely there when we host a party next time and will also recommend to all our friends.Thanks so much!
---
Bharat Mudgal - Shilpa Menon (VJ - Vijay TV)
Being a malyali girl brought up in Chennai, marrying a guy from Madhya Pradesh, the only aspect of the wedding that could bind both the families was the music. And I have to admit that Dj Zen put up a fantastic show. Having worked together earlier on various occassions, I had little or no doubt that Dj Zen would be absolutely perfect for the setting. After a short discussion with friends and family and putting forth a basic idea on the kind of guests and setting, the ball was completely in the DJs court and he made absolutely sure that people would not only remember the bride and groom, but also the awesome tunes they danced to! Big thanks to DJ Zen for a fantastic party!
---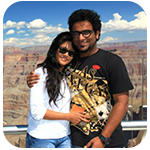 Haricharan (Playback Singer, Indian Film Industry) - Pavithra
When we want a DJ, we go to Zen as simple as that, coz he really knows the pulse of the crowd . He spins music across all genres and so well mannered also. Great song collections Very flexible and fun. Very different and classy compared to the usual dj's.
A BIG RECOMMEND.
---
Chritian - Nitasha (Germany)
Having no experience in working with Indians, we didn't really expect a German way of professionalism (...sorry) but DJ ZEN taught us the opposite. He is 100% reliable, punctual and really knows when to play which song to keep the crowd going. He even played some German songs without complaining :-D Our wedding in Mahabalipuram was just awesome - for us and our Indian & German guests! And this also because of DJ ZEN! I would not hesitate to recommend him to other bridal couples...so if you are planning a wedding, book DJ ZEN!!! :-)
---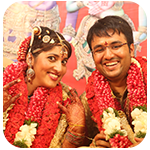 Ravi - Janhavi (Singapore)
DJ Zen is one cool cat! I was on the lookout for a Dj for my Wedding Sangeet in Chennai. Someone good with a North Indian crowd. Based in Singapore, I wanted someone whose work I could see online and I didn't have to keep following up with. I had contacted a few other Dj's and was looking for some reference videos. Most of them blatantly refused! Finally, I saw Soosha's Sangeeth video and Tadaa!! I found Zen. He is also listed on Google listed as one of the top Wedding Dj's in Chennai. I called him up and the first thing he recommended was for me to see his videos on his website! After this, he patiently explained his entire DJ packages and procedure on the phone on how things would take place on the day, including time required to set up etc. I had special requirements of no strobing lights and he assured me they would be met for. Once we confirmed, he promptly sent us a receipt of payment. We met up just a week before the event and discussed an overall idea of where he could setup (with sketches! A DJ who draws!!), what kind of music we should start with and the general tempo for the day. He was great with the recommendations and graciously accepted my list of songs. He was spot on time for the event, accommodated a live singing show and brought the roof down with his scintillating tracks! My family had the time of their life! Zen had songs that catered to young Tamil crowd and Old Hindi aunties. He and his team did well with song requests and built up the enthusiasm of people in the hall. My Wedding Sangeeth would not have been a success without DJ Zen and his team!! I strongly recommend MyWeddingDJ to anyone who wants to have a rocking evening!
---
Sharan - Indu (Toronto)
What an awesome DJ! Extremely professional. We had a mixed Punjabi and Tamil Hindu wedding and I was quite specific about the things I wanted/didn't want and he followed everything down to a tee! I had asked for him to play a particular song when I was walking down the aisle, which he did. Unfortunately, due to photographers in the way, I couldn't make it to the end of the aisle for only that one song and DJ Zen brilliantly chose a very apt song for me to finish walking down the aisle to. All the guests were dancing to the amazing music Zen was playing and he kept the party going till the very end! Thank you so much Zen!
---
Pradeep - Saranya (Singapore)
My reception was perfectly taken care of by Zen's crew! I wanted my reception to be an evening of dance and fun. But being based in Singapore, it was not all that easy to pick the right one among many available options. Though I spoke to many DJs, the minute I spoke to Zen, I decided I would go with him. The videos on his website were far ahead of the rest in the field. Zen's crew amazingly handled the crowd and matched the songs according to their mood. It's really unfortunate that one doesn't get to dance much in his/her own reception. But I received sooo many phone calls from friends and relatives after the wedding asking for DJZen's contact. Hoping to attend those receptions mainly to enjoy the dance floor!!
---
Jikku - Sarah (Boston)
Zen is a great guy personally and professionally. He was responsible for both the music and lighting for our wedding and he and his team did a tremendous job. He understood our needs and made sure that things were organized very well. Thanks Zen
---
Tuomas Ojamies - Poojitha (Helsinki, Finland )
Zen was the DJ at our wedding and I am so so glad we found him. He is a very down to earth person and tries to accommodate all your wishes. I really appreciate his professionalism. Apart from that, he is awesome at his work and has the best mixes and latest hits. Special mention about the lights and setting that he has arrange which were spectacular and gave us a real feel of a nightclub. Suffice to say to his amazing music even my grandparents tapped their feet and took on the dance floor. For all those to be wed, instead of some music bands or something I highly recommend Dj Zen! Infact he had a very nice ambience music for the beginning of the wedding reception and changed the music according to the mood. It was amazing Zen and thanks for making our day even more special
---
Jithin Girish - Vaishnavy
When you are busy planning your wedding, there are a few things you can never exactly preempt and plan. The pulse of the guest, the songs they would want to listen to, what would make them get to the dance floor, what would make them sway more, what would make them scream and ask for more music. Only a seasoned professional deejay who has had enough exposure playing to varied crowds will be able to do all of the above, with absolute ease. Deejay Zen is the one deejay who can get the dance floor buzzing with people, right from the 6 year olds to the 60 year olds. For the first time in my life I witnessed the wonderful sight of my mom & dad dancing at my wedding, and I canít thank him enough for that. His music collection is huge and varied Ė Hindi, Tamil, English, Malayalam, Telugu, etc. You name it, he has it. He is a natural! He is a thorough professional who keeps time and needs no follow up. I recommend him for anyone who wants to have a splendid and memorable wedding. Cheers!
---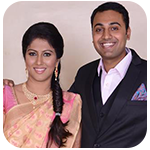 Jayanth - Savya
Amazing dj!!!!.....this guy was always nice and polite and easy to get along with. The event was great! And you know how sometimes you can't make everyone happy because some people want different music? Well, I could be wrong, but it seemed like most people were happy! I had my sangeet and wasn't confused one bit about the DJ .. I wanted a perfect wedding ......it was so perfect from the start .. you know why ? DJ Zen started with the sangeet .. wow man .... this guy knows what he is doing ..my family and friends had fun like never before .. I will miserably fail if I don't mention about the lights n video ... Awesome show ! I would recommend this guy "big time" .. Thanks zen for making it fun !
---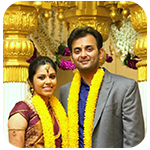 Subramanyam - Anitha (Atlanta, Georgia)
A huge thanks to Deejay Zen for igniting the dance floor with his nonstop music and making our mehndi-sangeet night a memorable one. Our friends and relatives continue to rave about how awesome the DJ setup was. That was the first time I saw my father, brother, mother-in-law dance. Thank you for being our DJ and keeping the dance floor packed! Not only did you play our song suggestions, you also played songs that suited the audience. The mixing of the songs was par excellence. Special mention to the dhol player for all the energy and masti.
---
Srivatsan - Aishwarya (Doha, Qatar / Toronto, Ontario)
The whole team of My Wedding DJ did an amazing job for my sangeet. I first started co-ordinating with Deejay Zen and he was very cooperative. Especially being from abroad, I did not have to meet or call them often to discuss things. I met him just once and told what I wanted and he made sure he delivered what was asked for.Gowtham was our DJ and Nitesh played the Dhol. They had a very interesting mix of tracks and the coordination between them was great! They kept the dance floor going continuously till the end! Perfect selection of Tamil, Hindi and English songs! And not to forget, the main person who kept the show going through out with great sense of humor and spontaneity; our emcee "Britto". He has an amazing talent to keep the guests occupied when there were small delays (a big relief for the organizers for any event) and he made the event very interactive so that everyone were involved with high interest and excitement! A big Thanks to the whole team for making our Sangeet very special and memorable!
---
Srinath - Raghavi
DJ in a Tam-Brahm Wedding.. Not a common scene!!! When I wanted a DJ in my wedding, my parents were lil sceptical as how people will enjoy it. But DJ Zen did an amazing job. Everybody in the crowd seemed to enjoy the music and the dance floor was completely full. I would like to thank Zen for setting the trend (many in my family now opt for DJs) and for giving us the best possible memories.
---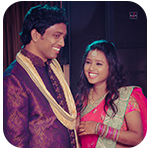 Thani - Dhivya
Hey DJ zen...As everyone knows v don't have to talk about yr great work u r doing..u talk less but then ur work is amazing.. Nov 16 Sunday evening a great function for my family and you made it so memorable for us with awesome collection of music...v simply loved yr work n enjoyed to d core...where do u get d spirit from, wen v just asked fr an old song to play which u dint have it with u...but still managed to play for us...cheers man.Thank u much tat u listened to me with the plans I had on tat evening n matched yr work to it.our guests,relatives,friends everyone talks abt yr music still...just a thanks from me won't be enuf so I have already started referring u to my friends.You have places to go. All d best...!! .
---
Ashok - Kowthami
Music was definitely one of the few things i wanted THE best for the wedding reception. And i took the right decision going to Zen as recommended by few of my friends. The night was all set and the mood was just about right for dancing - with the bunch of mad friends i have who did make the event a crazy one. Thanks to Zen and his team for making it a fantastic and memorable night for us.
---
Anand - Ankitha (Pennsylvania)
We wanted a DJ who would know the crowd and when to play the right song, depending on the kind of people in the audience. We had a decent mix of elderly and young guests, so the reception started with Carnatic fusion music and by the time we got to the end, all of our cousins and friends had a blast on the dance floor. Thanks DJ Ashwin & DJ Zen for making our night wonderful. !!!
---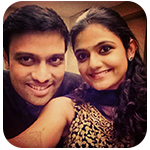 Varun - Krithika
It was a perfect evening on the 14th of September and it just got better with DJ Zen and team weaving in their magic! What looked like a pretty temperate crowd turned ecstatic after which there was no stopping them. I loved the way the songs were mixed based on the pulse of the gathering. I should say, It was truly special. With Zen around, you can just outsource and relax. With all the wedding craziness, Iím glad I gave this to him. Thanks again man for making our big day even more special!
---
Ram - Jane (RJ - Chennai Live)
Zen was the DJ at our wedding reception. And yes, no DJ likes being told what music we want to be played. But He was a crowd pleaser that day & played some fantastic Desi & Local flavors . He got the crowd breaking a leg and some serious sweat on the dance floor. Thank You Zen!!!
---
Raghu - Pooja (Birmingham, United Kingdom)
Music is an integral part of our lives and in a wedding, even more. Zen brought the best during the reception and played something for everyone who came. My aunts, uncles and even the grand old members of the clan raved about his music. Phew!! :) What Zen did during the wedding certainly set a trend in the family. We love him not just because we had so much fun but because he is an absolutely fabulous human being and a professional.
---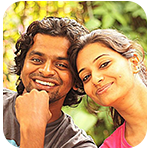 Ashwin - Kanchana
DJ Zen did a fantastic job at our wedding reception. Considering our families were very orthodox, we were not sure how this would turn out. But during our initial discussion, Zen assured us that the guests would have a wonderful time and so they did. Anybody looking out for Wedding DJ's or Corporate gigs, Zen's your man! Cheers Zen!.
---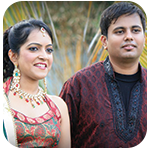 Abhishek - Lakshmi
A wedding is probably one the most important event's of one's life...You would do anything under the sun to make it perfect..and that's pretty much what Zen did for Abhishek and me. Me being from Mumbai and Abhishek from Chennai and people attending our Sangeet being from all over the place, it's not the easiest task to play music that everyone will enjoy, however Zen knew exactly what to play at what time.He was excellent and our sangeet was a grand success. Right from little kids to grandparents, Chennai to Delhi, everyone enjoyed to the fullest! Zen, you are a really good friend but an even more awesome DJ! Keep it up. Good luck!.
---
Utkarsh - Revathi
Your fantastic music was undoubtedly the highlight of my wedding. I was expecting the family members not to enjoy the music, but most of my family members joined in and had a fabulous time. At the end of the entire event, every friend and family said that this was the best tam-brahm wedding and the best DJ party ever :-) .I am so glad that I found you through my contact and that we had you to be a very important part of our wedding. Thanks a million Zen. You and your team rocks
---
Abhinav - Apoorva (Utrecht,Netherlands)
Dear Zen,Im so glad that I called you to handle the entertainment for my wedding.The reception was incredibly important to me and Abhinav and we wanted everything run flawlessly. Your high level of professionalism and organization meant that u dint have to worry about the entertainment at all. From our first conversation about the program itself you gave me complete confidence in your ability to deliver and you did. I would recommend you to anyone who asks without any reservations and tell them how lucky they would be to hire you as well.
---
DJ Ganesh - Madhumita (Toronto,Ontario)
You were awesome at my wedding! You kept the crowd going buddy! You kept the dance floor full all night long! Even the guests shy of dancing jumped onto the dance floor.Mine was the first wedding in our family with a DJ and you rocked the show! You were professional, got things set up smooth. We dint have to worry about anything at all! You were sensational! Thanks a lot for making my wedding so memorable!
---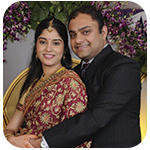 Prashant - Divya (Austin, Texas)
DJ Zen was responsible for all the entertainment at our wedding reception, and he managed to get everyone to tap their feet!!From the toddlers to the elders, the music appealed to all the guests!!! People whom we have never seen dancing, were out there shaking a leg, even if it was a left one. He was able to capture the pulse of the dance floor and change his music to suit the mood. Nitesh (the Dhol player) was a perfect partner to Zen, and together they rocked the floor!! We were a little apprehensive initially as we had not seen his work and we were not in town to meet with him untill a week before the wedding. Zen came home and met with us and showed us samples of his work. He was extremely professional and his suggestions to add the lights and include Nitesh made it an evening to remember.Thank you so much Zen.
---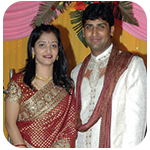 Balaji - Smita
I just had to let you know how much we loved having you as our DJ for our wedding reception . You were the best and everyone just had the best time. I remember my grandmother who was 80+ came to the dance floor and danced with us. Thats the first time I ever saw her dancing and the last time too. Even today when we see the reception video, we just feel what an amazing evening it was just great how you got everyone up and having a great time! I hope you are around when my brother gets married one day. thanks again Zen, you are the best DJ ever and we appreciated everything.
---
Mukesh (Cinematographer) - Kalpana
"If music is integral part of Indian wedding, Zen's role was definitly one of the memorable parts of our reception evening. By making everyone dance with his own style of mixing he made our evening musically memorable. We will definitly recommend to all our friends.
---
Ashwin - Aiswarya ( Philadelphia, Pennsylvania )
We wanted to say a huge thank you for making our wedding reception one to remember. You really did listen to our idea of a perfect wedding evening, and you played songs that matched ours and our guests tastes in music! Everyone keeps saying how much they enjoyed the reception and the music. I'll be recommending you to anyone I know who is getting married.
---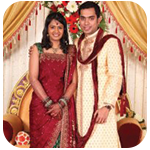 Pradeep - Prabha (Sanfransisco , California)
Thank you for being our DJ for the wedding - we truly appreciate your time and attention to details and the fact that the dance floor was packed is a testament to your professionalism and experience.
---
Anand - Aditi
Everything was fantastic Zen ! The music, the set up and your DJ Kishore fit the brief .Everyone had a great time.And I've passed on your number to a couple of people who enquired :) :) Thanks for the turnaround of everything And here's wishing you luck with your future projects!
---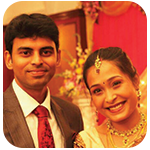 Bharath - Swagata Mondal
Thank you DJ Zen for playing some of the finest music for my wedding and making the occasion more memorable for my family and friends! Guests started dancing non-stop that at one point it looked like a discotheque than a wedding reception; I had to literally request everyone to wind-up so that we can vacate the banquet halls. Your music made everyone dance, right from my 2 year old nephew to my uncles, my parents and majority of my friends. Let your Musical Journey continue and keep entertaining all of us!
---
More happy couples...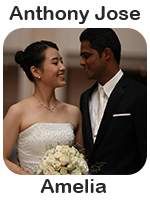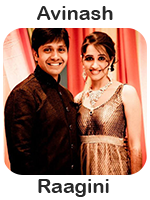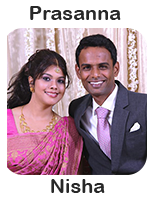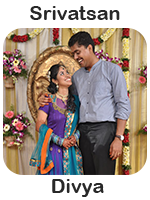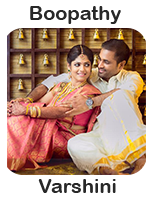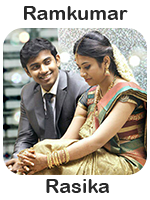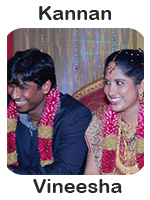 ---


Please share your valuable feedback to feature it in our website.Thank You :)
---